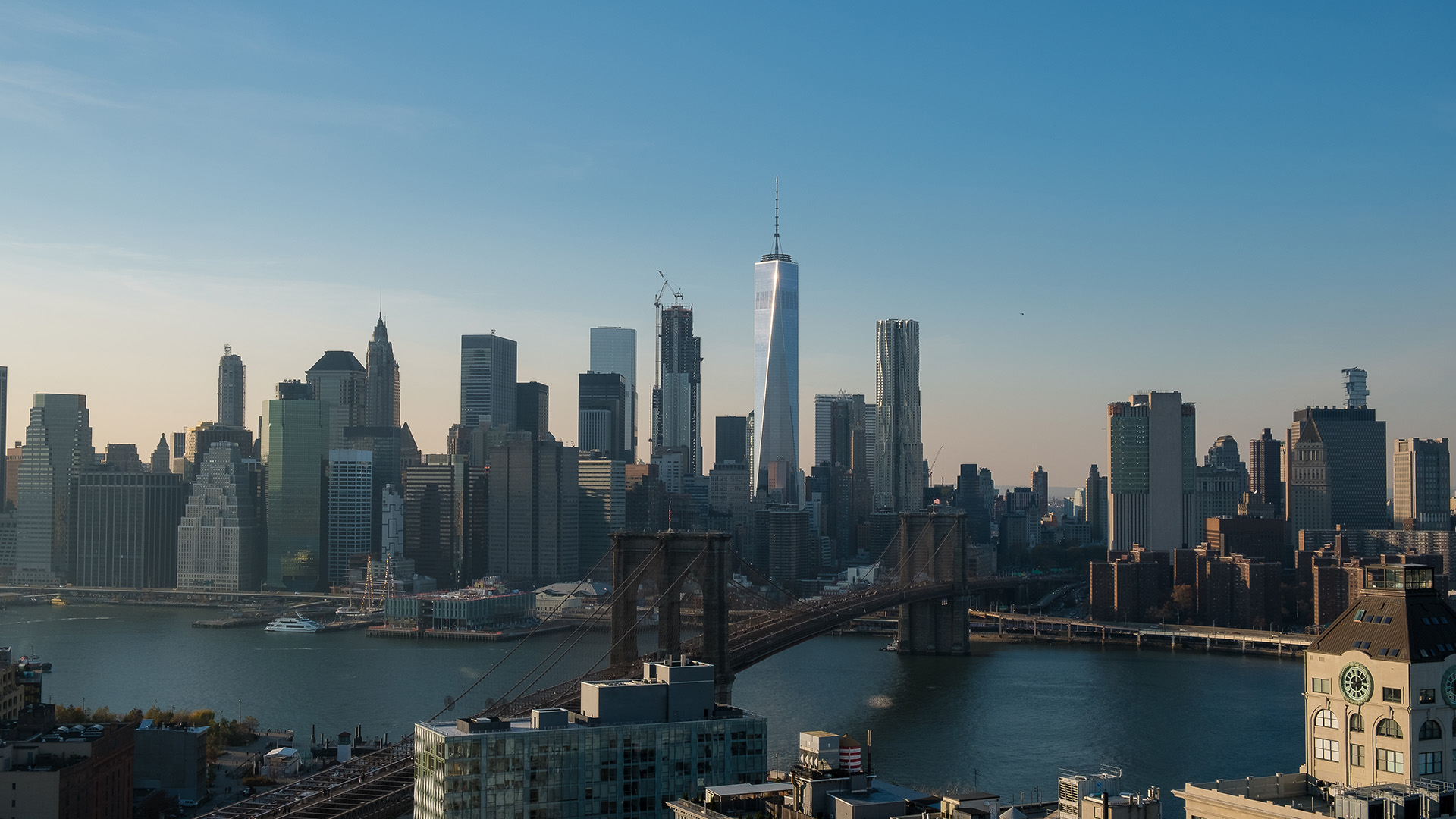 We Change Neighborhoods
Our company's history begins six decades ago when our founder, Jeffrey Levine, found his calling working in construction during the summer. Mr. Levine cultivated the expertise behind our development, construction, and management companies during his college years, studying architecture at night and transforming neighborhoods site by site during the day.
The Douglaston Companies began with the founding of Levine Builders in 1979 with just two people. Standing by our core values of integrity and ethics for the past four decades, the firm has grown to over 200 employees. By providing general contracting and construction management services, Levine Builders has built, renovated and rehabilitated thousands of residential units and millions of square feet of commercial, hotel, office buildings, retail centers, religious, educational, and healthcare facilities.
Douglaston Development was established several years later as the driving engine of the organization. The two companies worked in unison, leveraging each other's expertise to develop and build complex projects while also growing and thriving in challenging markets.
In 2002, Clinton Management was founded to manage the expanding portfolio of assets developed by Douglaston Development and constructed by Levine Builders. Clinton Management oversees a broad portfolio of moderate-income housing, luxury apartments, commercial, and retail properties.
The Douglaston Companies work together cohesively to acquire each property, develop and construct it to its full potential, and manage it efficiently, assuring that each investment achieves and maintains maximum value and profitability while adding value to the surrounding community. Douglaston Development's passion for transforming communities has created a long track record of building some of New York City's most exciting housing projects.
Throughout every project we develop, build and manage, Douglaston Development is committed to Jeffrey Levine's original vision: to revitalize and grow neighborhoods one building, one block, or one community at a time.
Back to the Bronx

In a continued effort to revitalize the Bronx, Douglaston Development closed on two 99-year ground leases with the New York Botanical Gardens at 2856 Webster Ave. and 410 Bedford Park Blvd. The sites are adjacent to one another and are next to the Botanical Garden. Construction will include a 450-unit affordable housing development that will develop in two phases. The units will include affordable housing for low-income seniors and low-to-moderate-income families in the Bronx Community District 7.

Happenings in Hudson Yards

Noticing a stark disparity between the need and availability of mixed-income housing in West Chelsea, Douglaston Development began working on a development at the intersection of the waterfront, the Highline, and Hudson Yards. 60-story, 938-unit 3Eleven will bring amenity-rich luxury apartments, including hundreds of affordable units, to a high-opportunity area that needed it desperately. 

New opportunities, new markets

Because of its expertise and historical experience in hospitality and residential and mixed-use developments, Douglaston Development was introduced to new hospitality and mixed-use development opportunities London, England and Seattle, Washington. The Curtain Hotel in Shoreditch, London, is a 120 room, 76 suite boutique hotel with private member club facilities and amenities. The proposed mixed use Seattle project is a 435 market-rate residential rental and 150 luxury hotel with state-of-the-art luxury amenities.

Crossroads: Still in the Bronx

Maintaining our commitment to the Bronx, Douglaston Development embarked on a 3-phase 425-unit affordable housing complex nearly 30 years after first building large scale, transformative housing in the Bronx. Since 2011, Douglaston Development has worked with the New York City Department of Housing Preservation and Development and the New York City Housing Development Corporation to develop low- and median-income housing, with two phases of the project already housing residents and the final phase and spacious public plaza to open in 2018. The project also includes community benefits such as Universal Pre-K, the Foundling child services, and a 20,000 square foot public plaza.

New Life on the Williamsburg Waterfront

After working with the City Planning Commission to rezone the derelict Williamsburg waterfront, Douglaston Development began efforts in 2007 to construct a mixed-use project with luxury housing, affordable housing, retail, and parking, including a waterfront esplanade park and piers with ferry landings. As the great recession gripped our nation, this 2,000-unit, multi-phased project became the anchor of the evolution of Williamsburg into a flourishing residential and commercial destination.

West Chelsea: The Next Frontier

As a true pioneer in the West Chelsea neighborhood, Douglaston Development built the 36-story, 386- unit Ohm in 2010. In anticipation of the 7 Subway line extension, the High Line, and the Hudson Yards project, the Ohm, with stunning water views, served as the first high rise residential project in what has become the true future of Manhattan.

New York Rebuilds, and So Do We

In the aftermath of the terrorist attacks on 9/11, 90 West Street, the landmarked commercial building, designed by distinguished architect Cast Gilbert in 1906, was structurally and cosmetically damaged by the falling debris of the collapsing World Trade Center. Levine Builders brought the building's facade back to its original splendor and repositioned the asset from an office building into vitally needed housing in the Financial District.

Meatpacking: The Destination of the Future

Levine Builders was an early pioneer in the transformation of the Meatpacking District through its participation in the creation of the world-renowned Gansevoort Hotel. The hotel serves as an early example of the future of the neighborhood, which is now a staple for New Yorkers and tourists.

Central Harlem's Renaissance

Douglaston Development was proud to develop and construct the City's first large-scale low-equity co-op, The Renaissance, located on 116th Street in central Harlem in 2001. This project revitalized the area and its success served as a market comp for lenders, enabling them to justify ongoing investments into the Central Harlem community for home ownership. The project was a collaboration with the New York City Department of Housing Preservation and Development, the New York City Housing Development Corporation, and the New York City Housing Partnership through the Alliance for Neighborhood Commerce, Homeownership and Revitalization (ANCHOR) program.

Housing for All New Yorkers

Douglaston Development and Levine Builders have always worked to provide quality housing for all New Yorkers. Early projects demonstrate a commitment to providing a diverse range of housing, including market rate, affordable, senior, special needs, and student rental housing as well as condominiums.

Some of these projects include the Porter Avenue Homeless Shelter in Brooklyn, the Union Plaza Nursing home, Atria Senior Quarters at Kew Gardens and Riverdale, APEX housing in Long Island, the School of Visual Arts dormitories in Manhattan, and the High Point at Douglaston.

Revitalizing the Bronx

In 1977, President Jimmy Carter stood on Charlotte Street and vowed to rebuild the Bronx. Later that year, Howard Cosell interrupted a live broadcast of the Yankees World Series to proclaim that the Bronx was burning. Shortly after, in tandem with the New York City Department of Housing Preservation and Development and Vacant Building Program, Jeffrey Levine worked to rehabilitate burned down shells of multiple buildings to create 600 units of affordable housing in the South Bronx. Levine Builders built approximately 230 homes through the NYC Housing Partnership's New Homes Programs. These projects were the early building blocks of a now flourishing community.